Serious Mad Update!!!
« previous entry | next entry »
Jun. 18th, 2005 | 02:37 am
気持ち: awake
音楽: Coyote Ugly DVD

3:00 AM and guess who is up!! Me!! hahaha. Okay. I put this up on word and it came up to like a page and a half blog(@@)! Like wow, really. So, like I have done in the past, it is all under a cut, and you can click and read which ever headline entices your intelliegence!!
First day of summer school:
Yes, today was the first day of summer school. I actually enjoy teaching summer school. There is so much fun that we are allowed to have, in spite of the regular school year. The sad thing is it is only for one month, which really does not allow a lot of time to do big projects. Nonetheless, I am looking forward to working with this young group of exciting second graders. Today, we did mostly, get to now you activities and they appeared to be enjoying the class so far. I just hope with all my activities planned for them they remain interested throughout the month!! But we will see, hahahaha.
The game Risk:
I do not know if any of you have played Risk, it is a rather challenging game, and I have been taken in awe to how the game can create different set of emotions. One minute you are on top of the world, literally, then in a blink of an eye everything is taken away from you. I was playing with my friend and a neighborhood kid. I was kicking some serious ass, when the kid traded in for, get this, 20 armies!!!
Then, without warning attack me!! I lost Australia and some of Asia with that counter strike. ARGH. Well, I did turn it around and eventually, after four grueling hours of emotional stress, won the game. Tough luck, I know.
Batman begins:
This was a really great film, for a Batman film, that is. If you are a DC fan, then this film will do you some serious justice. It touches on how Bruce Wayne became Batman and why he became Batman. It sticks with the original story. I feel it was well done because I have read a rendition of the origin of Batman and the film held true to that. I would highly recommend watching this film. I admit I was expecting some really cheesy super hero film, but surprise surprise. Bats really do have surprises!!!
The Perfect Man:
For all you Hilary Duff fans, you may enjoy this film as well. Ok, those who don't know me, guess what, I am a Hilary Duff fan and I love romantic films. This romantic comedy is about a family of three, a mother and her two daughters. The mother, who is desperately seeking a man to grow old with, has a tough time hanging on to them. Everytime the mother has a heartbreak, she tells her daughters to pack put and move across the country. Well, her eldest daughter, Holly (Duff), gets fed up with all the moving and decides that she is going to create the Perfect Man for you mother to stay in New York.
Like I said, if you like Hilary Duff and romantic films, you will enjoy this film as well. I really did like it, while some of the critics actually gave it low ratings, not surprising. The film dealt with some deep relationship issues and offers some moral lessons in dating. Give it a shot if you have time.
D&B:
I went to D&B a few nights ago, had the Chicken pasta and two drinks. I had the red razzamataz (I think that is what is called) and two shots of the over under from D&B. Yummy!! To all you under age bloggers, please wait until you are of age to drink, for your safety. Take care and thanks for reading this page and a half blog, you're all wonderful.
This was the first drink I had, pretty lame, not strong, easy to drink.
After this meal, I learned I am not interested in Pasta. Ewww!! Wait, it was good, but I just don't do noodles!!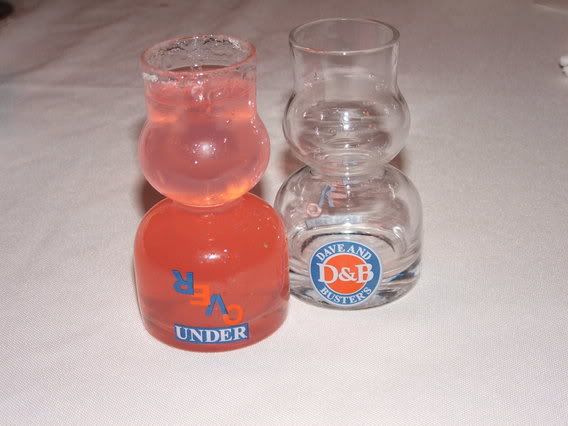 Yummy shots!! Plus I got to keep the shot glasses!!
Finally, the question of the Blog:
As a teacher, I think it is funny how in America we need a license for practically everything. You need a license to fish, to get married, to drive, to teach, to practice medicine, and so much more, but you don't need a license to be a parent. As a result parents are more and more less focused on their own child due to the high demands of work and other pressures. What do you think we, as a country, should do to make parents more accountable for their children?? Furthermore, do you think it is the teacher's job to have to teach child not only academics, but also manners and how to behave?? Why or why not?? Take care bloggers, I hope to hear from you all!!
PS: All my 808 bloggers!! Tonight is my last night at Bubbies!! YAY. If you know where it is at, stop by and say, "HI!"
---