Singing up a storm!!
« previous entry | next entry »
Mar. 25th, 2005 | 09:42 pm
気持ち: accomplished
音楽: Family guy in the DVD player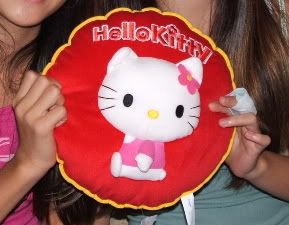 Birthday present to me!!! Yeah, I like Hello Kitty. It's a pillow.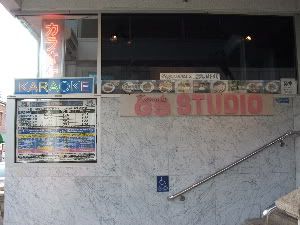 Karaoke!! My favorite spot in Waikiki
Okay, let ms start by saying, I do not like Waikiki. I really hate it with a passion. It drives me crazy. I can't stand being in Waikiki, but this is the only place I don't mind going to. I love to sing. So, if you wanna go clubbing with me (yeah right) anyplace, BUT Waikiki!!
Anyway, it was great to go singing!! I sang mostly Japanese song, no surprise there. I tried singing this one song from Dir en Grey, but the music was like really off and it was hard to sing. I don't know if I will sing it again. Luckily Buck-Tick sounded perfect enough to sing. Well that was about it for recent updates.
I was productive yesterday. I worked on my paper for graduation today!! Yay. I have 10 pages done!! I need about 5-10 more then I will be done whoop whoop. Spend last night chatting to my new friend, 4 hours online chatting to her. Practically watched her go to bed through AIM. Hahaha. She's great, sorry, no love connection there =P
Well my next post will be: Movie review, yes again, "Miss Congeniality 2." lol. It was a very excellent film and I will be happy to write to yo about it. Take care and see you all.
---