Today's humbugs....
« previous entry | next entry »
Mar. 23rd, 2005 | 10:05 pm
気持ち: discontent
音楽: In line waiting for "Guess Who"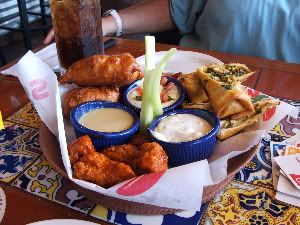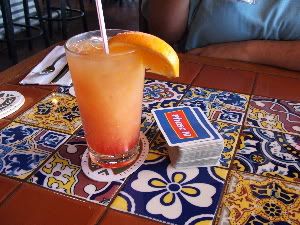 Okay, I went to Chili's yesterday and I know this post is a little late, but bbetter late than never!! Haha. Chili's was really great! While there, I saw three wahines, one of them with very interesting jubblies. Hey, I normally don't look, but even my friend Dora, noticed, in fact she noticed it before I did. But this post is not about some females upper body, so sorry all those interested in such topics. I am a "good" guy, or so I have been told.
Back to Chilis. While there I drank the Calypso cooler (pictured on the right). Dora and I were very hungry, having not eaten all day, so we started out with the triple play. Believe me it is really good!! I loved it. All chicken! The hotwings were out of this world.
The drink was also pretty interesting. Soulseeker, I can't wait for you to be 21!! Definitely let's go drinking!! hahaha. Anyway, the drink was more or less like fruit punch and that is why it was really easy to drink, but there was alcohol in it and I felt it as I drank more and more of it. ha!!
Finally, I went into the restroom and long and behold this caught my interests: Sorry, I should have rotated it, but what we have here is a newspaper posted over the urinal.
I guess they figure that men would enjoy reading the news while relieving themselves. My first question to this picture is why the sports page??
Why not the front page? Or the entertainment section? Better yet, comics? I mean, men stand there for no more than 1 minute (estimated guess, not really calculated). We do not have time to read a whole article, you know. I can see it now, some sorry sap is really going to want to go to the restroom and a tall bloke is going to be standing there reading the paper. the guy is going to be like, "Excuse me, are you al.. al.. almost d-done?"
The relieving guy is going to reply, "I'm reading the paper, wait your turn."
(Gee I hope I am not the one who has to use the urinal!!
On a darker note, cut for your viewing convenience, my little dark entry:
Okay, this is the part of the post I decided to cut. If you are reading this, then you are curious as too why I feel so lonely. Isn't it obvious?? I am alone. I wish I had a girlfriend. I wish I didn't have difficulty meeting people. I would love to meet someone to hold when I am feeling blue someone why would come to me and say, "Every thing's gonna be alright. We can make it through this together." But I don't. I hang out with my friends and I attempt to have fun by other means, but it does not work. I come home and I am alone. I look around my apartment and see emptiness. This saddens me. My own mom has stated that she does not want to come down to Hawaii to see me because she claims, "I don't know you." WTF?! I mean, you raised me for 18 years and now you don't know me? anyway, I have no family and my friends are scarce. I am grateful for them, really I am, but I would love to meet someone I can hold and be with. someone like my "confession" entry. But, it does not look good, and the girl in my "confession" entry is like many others, she has no interest in me. Sad? I know it is. But what to do? i am waiting for my princess. I am waiting for the woman who will make me happy with her musical smile. I am waiting for her, to hold her and brush my fingers in her long flowing hair. To pick her mind with games of childhood gander. To express to her in my own words how much she means and have her understand how I truly feel. Wherever you are I am waiting for you. For you my love, and when we meet, I will hold you forever in an eternal lock of love.
Well that's all for now. Next entry: Movie review, "Guess Who"
---